We have come a long way since the days of wearing body-restricting corsets and one-sided fashion and beauty rules. Yet somehow, up until today, we are still not happy with our bodies. How many billboards and posters of whitening products, diet pills, and hair-straightening services are plastered along the city's main thoroughfares? Our version of an ideal body has been influenced by stereotypes to the point of being unhealthy. It does not help at all that our local TV networks highlight waif-thin actors and actresses, often from  foreign descent.
Meanwhile, in the online community, beauty and fashion bloggers are almost always svelte, and this could lead one to think, "Do I have to be skinny just to be beautiful?" Stacy and Danah Gutierrez of The Plump Pinay say no – embrace your body, whatever shape or size!
Why Plump Pinay?
After recovering from body image issues themselves – Anorexia-Bulemia was Stacy's problem for seven months, and obsession with exercise and caloric intake was Danah's – the twins started The Plump Pinay, a blog that promotes body appreciation and self-acceptance. They started the blog because "there are so many factors why people are fat, and the labels tagged on them need to be eradicated. We felt that there's a strong need to expose these issues to the public because they're real, as we both have gone through so much body-hate. It's time to influence other women to thinking the same – that our bodies are meant to be loved and accepted by ourselves."
"We want you," they introduced in their website, "to feel good about yourself. We want you to love your body 'cos it's the only one you've got. We want you to work with it and not fight with it. We want you to share as we share, vent as we vent, about the struggles we've all had due to the booming imperative (and dangerous) persuasion of the media."
And it is not only the media that fuels us to believe that we should look and be a certain way to be "in" – some of our greatest critics can be our friends, our partners, our families, and even ourselves. Some people comment on our bodies, saying that if we only shed a few more pounds, then we would be beautiful. It is quite frustrating and saddening that sometimes, the people whom we expect to support us for who we are, curves and all, are the same people who do otherwise. So the best way to deal with them is to focus on your best qualities, not fixate about the negative, and tell others that your body is your business.
Channeling love through fashion
Stacy and Danah's advocacy is not the only reason why they are well-known. Their love for life and "unconventional" fashion are also their admirable qualities. We say their style is unconventional because it is not bound by rules (except decency, perhaps). Chunky women are told to wear black all the time to appear slim; horizontal stripes will make you look wide, sleeveless tops will show your big arms, and mini-skirts will expose your hefty legs. But these bold women prove that in fashion, rules need not apply.
"I admire her awesome cool chick vibe," said Danah about her twin, Stacy.
"We can be edgy to glammed up to casual cool," the twin sisters said, after being asked to describe their fashion philosophies. "Our styles really evolve on a daily basis. Just nothing trashy or slutty." They are not afraid to experiment with different looks – from pretty in pink maxi-dresses to punk in shredded tees, with a fake tattoo to boot.
"One of the many things I love about having a twin–my clothes and shoes automatically double in quantity!" said Stacy.
It was a big step in the local fashion scene when they became two of Forever 21 Philippines' brand ambassadors. It proved that being fashionable and influential need not be reserved to those who wear Small sizes. They have been featured in several publications, both print and online, such as Cosmopolitan Magazine, Candy Magazine, Rude Boy, and Female Network. The plump and proud tandem has also been making the rounds in radio guestings at Magic 89.9 and Mellow 94.7. Through these exposures, they are able to reach a wider audience, encourage a positive love for self and others, and, of course, gain some deserved popularity.
What's in the future for The Plump Pinay?
With the direction they're going, it's not surprising that the sisters hope to create a clothing line with more accommodating sizes. Trendy and flattering clothes for plus-size women (and men) are scarce, so this plan would put their advocacy a step further. In the meantime, they have started realizing this dream by selling The Plump Pinay printed shirts and Plump baked clay necklaces.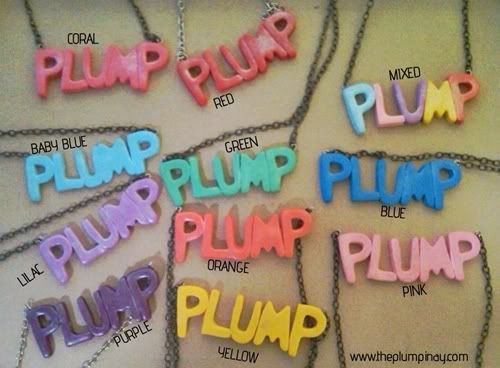 Stacy reminds us, however, that they are not doing all this just to be popular or to earn money. "Even if we lose all our sponsors and gigs and 'fame,' I guarantee you, you'd still see me and my sister blogging and lobbying for our advocacy which is body acceptance," she said.
Photos were taken from The Plump Pinay website. Used with permission.