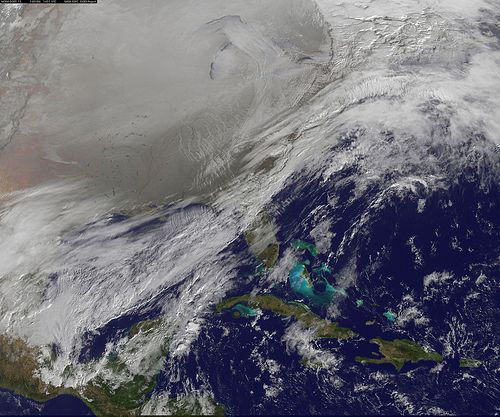 This week, a subzero polar vortex has swept across the United States creating a massive winter storm and a nationwide chill.
This winter phenomenon called polar vortex is a huge cyclonic, persistent low-pressure system whirling over an area. It is usually found over both North and South poles.
The northern and southern polar vortexes are located in the lowest level of the atmosphere, specifically in the middle and upper troposphere and the stratosphere.
While the air gets colder with increasing height in the troposphere, the temperature gradually increases with height in the stratosphere. However, while big temperature swings occur frequently near the ground, once in a while they also occur in the stratosphere as well.
A polar vortex develops and strengthens in its respective hemispheres' winters and it weakens in the summer. In the Northern Hemisphere, it circulates in a counterclockwise direction.
Blast of frigid air
According to meteorologist Brandon Miller, the polar vortex can lead to major cold air outbreaks in any portion of the Northern Hemisphere -- North America, Europe and Asia. Last year, Europe had its coldest March in 50 years due to the phenomenon.
At times, this vortex can be distorted and dip much farther south, allowing cold air to spill southward. This is what happened in the U.S. as the northern polar vortex entered on January 6. It enveloped the eastern U.S. on Tuesday, shattering decades-old temperature records.
In space, the polar vortex looks like a blast of artic air covering the atmosphere.
The chilling air affected about 240 million people in the United States and southern Canada. It froze bodies of water including lakes, rivers and even the Niagara Falls. Waves in Lake Michigan birthed to hundreds of massive ice boulders.
The winter storm that welcomed the New Year and the bone-chilling cold weather due to the polar vortex forced states to close schools, roads and airports. The record-low temperatures also led to a surge in power demand.
Frost quakes occurred in Toronto and Ontario in Canada. Cryoseisms, or frost quakes occur when rain and water seep underground and freeze. "Water expands when it freezes, and when it expands in frozen soil, it literally puts a lot of stress on that dirt and will release that energy all of a sudden, very much like an earthquake releases that energy and shifts the ground," meteorologist Natasha Ramsahai said in a report.
At least 21 people in the U.S. have died as a result of the extreme weather condition. Several of the victims were identified as homeless people.

Weather whiplash
This weather whiplash sent temperatures in all 50 U.S. states below freezing level. At some point on January 6, at least one location in each of the 50 US states recorded subzero temperatures, with the highest point on Hawaii, Mauna Kea, a dormant volcano, recording a temperature of -6C.
Southern states were colder. Atlanta plunged to -14C, the lowest recorded temperature since 1966 while Anchorage, Alaska, recorded -3C. Wind chills up to -50C were recorded in parts of Michigan, Minnesota, Montana and New Hampshire.
Meteorologists also recorded heavy snow on the ground.
Based on the analysis of the U.S. National Weather Service's Storm Prediction Center, January 6, ranked as the 40th coldest day on record since 1900 for the continental U.S., with an average temperature of 17.9 degrees for the Lower 48 states.
According to this data set, January 6 was the coldest day of the 21st century on a national level, and the coldest since January 12-13, 1997, but pales in comparison to the super arctic outbreaks of December 1983 and December 1989, which together take the top four slots on the list.
The January 2014 polar vortex was unable to break long-term records due to its short span. The coldest air moved into and out of most locations within a 36-hour span, often not lasting enough to keep temperatures anywhere near historic lows for a full 24-hour calendar day, Weather.com reported.
After more than a week, the 'deep freeze' will soon come to an end. Calmer conditions in the U.S. are expected next week as the polar vortex moves farther southward over Canada. According to AccuWeather.com, the frigid air will soon depart, and will begin a far-reaching January thaw.
"We will likely see a piece of the polar vortex break off and set up just north of the Great Lakes spanning Jan. 16 to 20," Accuweather.com forecaster Paul Pastelok said. "This next main arctic blast will not rival, nor will be as extensive as the event this past week."
Images: NASA and vpickering. Used under CC license. Some rights reserved.